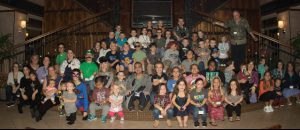 The Garden State Chapter is very active. We have recently hosted the Fall Regional in Eatontown, NJ. We enjoyed over 200 members coming together and celebrating Dwarfism Awareness Month.
Our Chapter is diverse as we have young children and their families as well as long standing members and young adults as well.  Our activities throughout the year try to accommodate all ages and we are always ready to support our membership with a new activity or idea.
Garden State Winter Party – Download Flyer
We are currently working on a mentor family program whereby a new family gets mentored by an existing family with children around the same age or in nearby proximity to the new family.  Currently, a few families have reached out for this service either as volunteers or recipients and the outcomes have been positive.
One message that as President I have really tried to stress is to make a new friend at Chapter events as well as regionals so that everyone feels welcomed.  It is always nice to see old friends but it is also important to remember that members join at different times in their lives and acceptance is something all members should be able to receive from LPA.